A wobbly, edible palace, flower crowns, and a lot of red, white and blue; here's our pick of the brands who have been getting creative in celebration of her majesty's 90th birthday over the past few months.
PG Tips took the opportunity to showcase their support by creating a huge PG Tips monkey installation. The six-metre tall version of the mascot floated down the Thames in a well-executed PR Stunt in bid to raise awareness around a recently published report #keepittea and at the patrons lunch, tea-drinkers were encouraged by the monkey to sing Happy Birthday to the queen.
In anticipation of being the Patron's lunch's official tipple Pimm's created a metre-long jelly sculpture of Buckingham Palace, complete with corgis. The footmen featured in the Pimms' making-of video were also said to be riding around the site on "bar bike" trikes, sampling Pimm's at the lunch.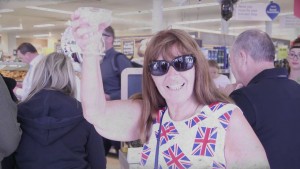 Tesco created a memorable shopper experience by hosting 1920s themed parties across various stores on the 10th and 11th of June. Inspired by the decade of the Queen's birth, the party offered a 3D corgi shaped cake and a £100 gift card for a lucky winner. #happybirthdayyourmajesty
Kwik fit's "Queen of Parts" automotive portrait installation took a road trip from the 1st – 9th June. The 115kg, 800 piece work of art which was unveiled for the Queen's birthday on 21st April visited 8 cities across the UK on a roadshow.