(LONDON, UK, November 2019) – HIGHJAM has been appointed by Quartz to run a brand awareness campaign across London for the launch of their app in the United Kingdom.
Quartz provides global news and insights, and has more than 20 million people read, listen to or watch their content every month. As part of their ambition to build brand awareness within the UK, Quartz membership, a community for the new generation of global business leaders, was launched in 2018. To extend reach and accessibility, Quartz is now launching their sophisticated app to the UK market.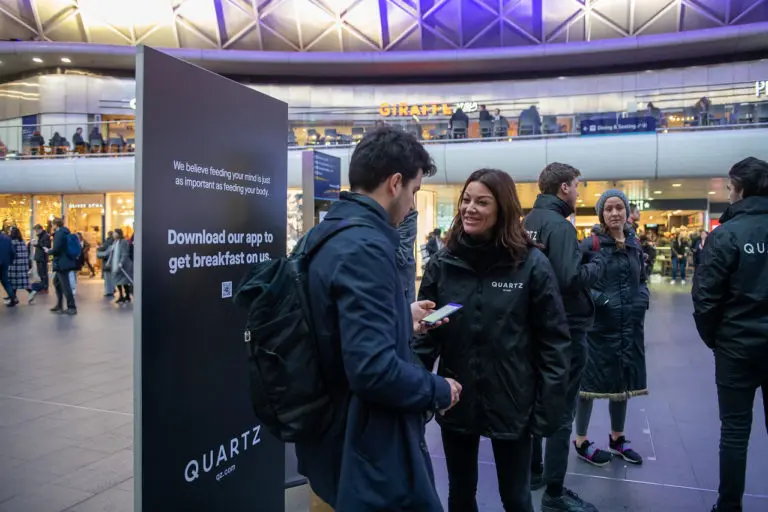 HIGHJAM was chosen to deliver Quartz Experiential campaign due to its experience delivering successful activations for subscription-based models. Developing the 'Food for your body, knowledge for your mind' activity, HIGHJAM will occupy static displays with a breakfast incentive at London Kings Cross and London Bridge train stations, as well as guerrilla activation at across Old Street and London Bridge until 20th November 2019.
Quartz commented: "From the initial proposal, HIGHJAM has really understood our brand purpose. We're excited to introduce Londoners to our new UK edition with a campaign that also really addresses their need for a new type of news. HIGHJAM's activation is the perfect way for us to show up in our target audience's daily lives in a thoughtful way."
Kate Roche, Director at HIGHJAM said: "Quartz is a fantastic client for us. As an ambitious company looking to influence the next generation, we've really enjoyed the planning process of this campaign and we're excited to see the impact we can make on brand awareness across London, and ultimately, deliver long-term growth for their business."
The app is now live and available to download on Apple and Android app stores.